Creat - Teach - Share is having a Post It Linky Party...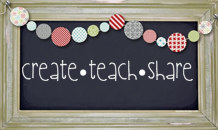 I love post it notes! I use them in my classroom all the time. Here are a few of the ways...
1. I use them to remind myself of things. My computer screen is framed in post-it's!
2. We do a lot of graphing in the first few weeks of school and the kids love having their own post-it to write on and put on the board.
3. Before we start a new unit, the kids will write one thing they already know and we will post it on a small board. After the unit, we write one thing new they learned and we go back and look at the old post-it's.
Those are just a few of the ways we use them in my 1/2 classroom. I'm excited to get new ideas!